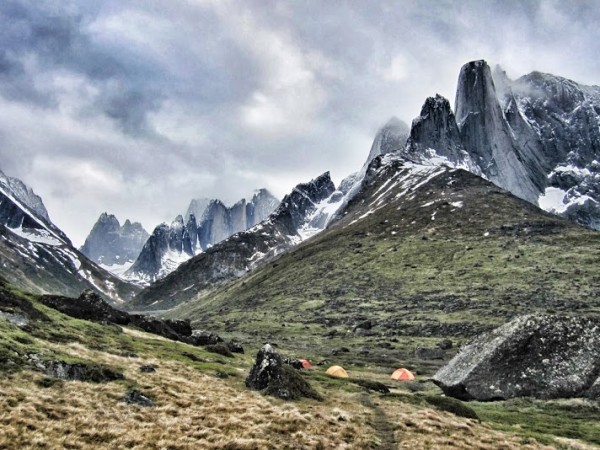 On june 28th Oskar Alexandersson and I made the first free ascent of Life Is Beautiful (VI- 5.9 A2+ 600m Suzuki-Yamaoka, 2000; FFA Oskar Alexandersson and Erik Massih 5.13- (7c+)). Both of us led and followed free in a 19 hour push. I had tried to free climb the route the previous summer together with Martin Jakobsson and knew it was possible. The weather wasn't on our side though so we had to leave without getting a shot at a free ascent. This year we climbed the route ground up on our second attempt. We climbed the route ledge to ledge, therefore not always using the belays from the first ascent.
On the crux pitch, I fell, lowered, stripped the gear and handed over the lead to Oskar. Oskar sent and we climbed the remaining pitches of, to us, unknown ground via mainly 5.11 cracks, topping out at midnight in beautiful moonlight. The lower part of the route, the first four pitches, offered fun and varied climbing on not so good rock, lots of loose and crumbling flakes, but generally safe, and where dubbed "the knäcke (Wasa) Pitches" after Sweden's national hard bread. After a ledge a top of pitch 5 rock quality improved and from here on climbing was pure pleasure, mind the last two, but they were fun anyhow.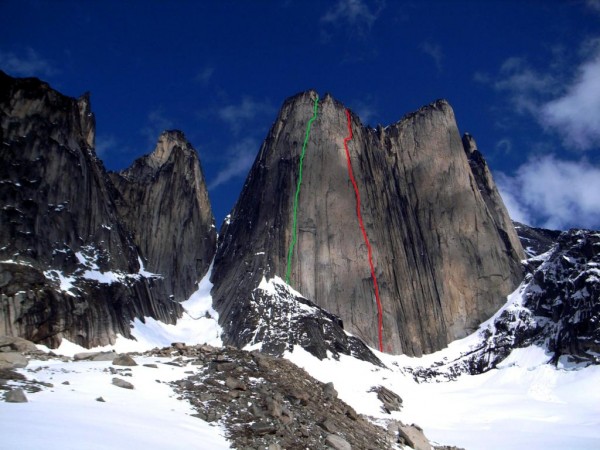 Later, Oskar and I climbed War and Poetry, Todd Skinner et al's free version (VI 5.12c) of the Geneva Dihedral. We climbed the route on-sight ground up and rappelled in a 30 hour push, led and followed free, only flaws were three hangs by the seconding climber on pitch 12, 15 and 26 (lowered down to a stance to reclimb, marginal on P15). No fixing, no stashes (we received hugs and a few of mouthfuls of tea from the girls who where camped in a porta-ledge just below the "Black heart".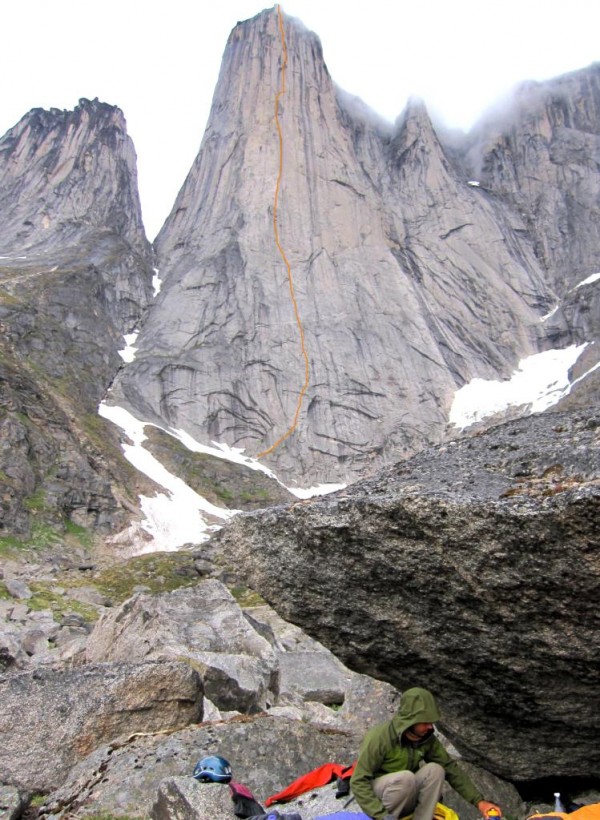 It all started last summer, or actually, it started summer 2004 when Marco Kupiainen and I had climbed the Left Pillar Route aka British Route on Nalumasortoq. Back down on the snowfield we scouted the wall for more free climbing possibilities on Nalu's left and central pillars. As far as I could see, a line far to the left with continuous cracks that navigated around and through several roofs looked possible and challenging. It would be four years till we got back. Meanwhile a Norwegian friend, Oskar Hovde had tried the route and thought that the crux pitch, a steep dihedral capped with a roof crack would go, but it would be hard. Although I'd recommended and encouraged them to have a shot at freeing Life is Beautiful, it sort of pleased me that they hadn't succeeded. In a way I felt selfish as if I owned the rights to the route, sometimes selfishness just takes over but at the same time, what's the point of being first if no one else is trying.
Last summer I returned together with Martin Jakobsson and during that trip we managed to free climb the crux pitch but never got a shot at a continuous free ascent, partly due to bad weather. To me, just freeing the individual pitches isn't a free ascent; a free ascent is a result of climbing a route bottom to top without falls preferably between natural stances. Leaving the valley and the walls was sad and I was pretty much sure I would not return. This is the result of being greedy, but I tried hard to let I go. Back in the small fisherman's town of Nanortalik I described the outcome of our trip to my pregnant wife, Sofia, over the phone. "Well, I guess you have to go back next year then", was her first response.
Though Sofia is a passionate a climber, with all girl ascents of big wall routes such as Moby Dick on Ulamatorsuaq and Hooka hey on Kjerag and 5.13s sport in her CV, I surely never would have expected that reaction. We were expecting our second child and I felt ever so grateful for being able to go this summer, but next summer again, I didn't even know if I wanted to myself.
Winter came, Hilde was born, and things were working out pretty well, and the little dream of going back to the Tasermiut Fjord to see if we could complete what we had started slowly began to sprout. Going away for one month and leaving Sof and the kids alone felt awkward, but Sof was still unbelievably supportive although she admitted that it was partly a joke when she half a year ago had encouraged me to go back. Martin had moved to Macao, and had to pass, but hooked me up with Li'l Oskar. Martin assured me that Li'l Oskar would be a good partner. I'd only met him once before, quite briefly; below the crag Hallinden in Bohuslän on the west coast of Sweden. His talent and drive had impressed me at the time but even more his warm spirit. Without knowing either me, Sofia or our two year old son, Audun, Li'l Oskar offered to baby sit for us while Sof and I climbed a longer route. An hour later we found Audun and Oskar happily playing in the dirt. Well, I called Oskar and asked him if he wanted to go to Greenland and do some rock climbing. He was on. A couple of weeks later, he came up to Stockholm, we hit the town and a reggae concert, got drunk, got lost and figured that climbing together would hardly be a problem.
Two small children and mainly bouldering through the winter wasn't exactly filling me with confidence for a big wall free climb, so something needed to be done. Sofia was keen to climb as well, so we packed our old Volvo with kids and diapers and drove down to Gorge du Tarn, in southern France. Six weeks of long pitches on steep limestone and hilly runs in the woods did the trick. Sof had got a good fix of climbing and was ready to juggle the family for a month and I was feeling balanced and fit.
In mid June, just more than a week after we got back from France, we arrived in a snowy Tasermiut Fjord together with five other friends, all with different ambitions but all with a good vibe. It had been a cold and long winter round Cape Farewell, with a lot of snow in the mountains, and it sure was not what I'd expected. Spirit was high though, and we set to work, carrying up gear and establishing a high camp on the moraine below the wall. We made an attempt and climbed up 6 wet pitches and worked the roof crack. We tried to jam between rock and icicles, which actually didn't work too well, but we had a good plan and lots of useful beta.
Over the next week we hung out together with the others, bouldered , fished and ate well, but a grand part of me was at home with my loved ones, and I wasn't really psyched. Oskar, enthusiasm covered up, and got me thinking. Slowly, summer made its way and the wall dried up. A week and a half after our arrival we where back on the morain, set the alarm clock at 5 am and hit the sack. By now I was infected by eagerness, I'd come to the simple conclusion that longing for home and my family would be incredibly unfair to Sofia, who worked hard to take care of the kids while I was on vacation. Not focusing on and enjoying the moment would just be a waste. Now all I wanted was to be up on the wall cranking hard moves. I pictured myself, climbing strong and with confidence, hair blowing in the wind, running it out high above gear. The reality of cold and suffering, being scared, sketching around in a dorky helmet didn't occur to me.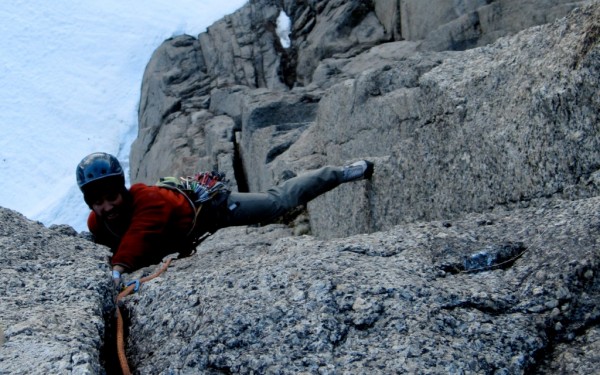 We woke up to a clear blue sky, drank lots of water and lots of coffee and strolled up over the glacier. Hanna and Hilde chose the same perfect morning to start climbing and set of for a one day ascent of The Left Pillar Route on Nalumasortoq. Not much is really to be said about the climbing. Things ran smoothly, weren't to cold or wet and we had a good time. The first four pitches, The knäcke (Wasa) pitches, dubbed after the Swedish national hard bread, felt a lot better than last time and route finding wasn't an issue anymore. Just as we sat on the belay below the roof pitch the sun came round. I went first, climbing through the pitch feeling relaxed and confident, but fell while reaching round the roof. I lowered, stripped the gear and handed over the lead to Oskar. That was the deal. Half an hour later Li'l Oskar pulled round the roof in full kung-fu style, both physically and verbally, dynoing between jams while slipping out of them, just barely keeping it together. I was stoked.
The remaining eight pitches of, to us unknown pitches, where pure pleasure. Mainly 5.10 and 5.11 cracks, from fingers to chimney on solid granite. There were actually moments when it felt like I was living up to my visions of myself, spare the pot on my head. In the diminishing light Li'l Oskar squiggled up a nice wet chimney and rounded the roof capping it and made his way up to a big ledge. Just as the sun set behind the mountains and nunataks I started my last block, and probably one of my worst as well as one of my most fun leads ever. The dihedral was running with icy water. Spring hadn't managed to melt the snow up here yet. I was hungry, probably rather dehydrated, wet and cold, couldn't really see that much either but I was absolutely loving it, hardly hesitating a move. I wanted to get up. Maybe I'm not just a sports climber after all. One easy pitch later, at midnight, we topped out in beautiful moonlight, having climbed for 19 hours.
A couple of hours later, we'd rappelled the route, were back on the snow field, and could change to more comfortable footwear, wet running shoes, the ideal pick for glacier travel. Yet another hour later we crashed on the morain, have completed what I'd dreamed about.
On the ascent we used no fixed ropes, climbed ledge to ledge, we led and followed free, added no bolts but used most of the bolted belays from the first ascent.
http://aaj.americanalpineclub.org/climbs-and-expeditions/greenland/south-greenland/2009-tasermiut-by-e-massih/
http://www.climbing.com/news/swedes-establish-free-route-in-greenland/
http://s13w3.arcteryx.com/Article.aspx?EN&article=First-Free-Ascent-on-Nalumasortoq–Tasermiut-fjord–Greenland
http://www.up-climbing.com/en/news/mountaineering/life-is-beautiful-in-greenland